Parador of Aiguablava
(63 rooms, 15 suites.)
(****)

Preservation
Excellent
Restaurant
Very good
Price:Quality
Good

Playa de Aiguablava (Begur) Girona
Tel. 972 622 162
Fax: 972 622 166

Online reservation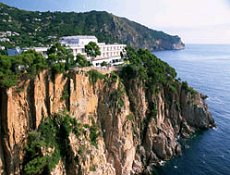 Aiguablava parador in Begur is in the heart of Spain's Costa Brava en rates among our favourite paradors. Begur is in the Province of Girona, perched on the top of rocky cliffs, surrounded on one side by green mountains and on the other by blue sea. This parador is ideal for a relaxing, no-stress holiday.
With dozens of little, uncrowded coves nearby, it is also a favourite with families.
The parador of Aiguablava is a short drive from nearby Begur along a windy mountain road with wonderful views. A modern white building which contrasts with the deeply coloured surroundings, the parador is one of the Parador Chain's most modern hotels with excellent facilities including a sauna, gym, large sitting room with comfy sofas overlooking the blue sea, TV and games room, a room with tables and chairs and wireless connection to Internet for guests with laptop computers, open-air swimming pool open during the late Spring and Summer months and a bar terrace with comfortable chairs and, once again, impressive views. There is a little path leading from the the parador down the cliff to a small beach which is just a 5-minute walk away.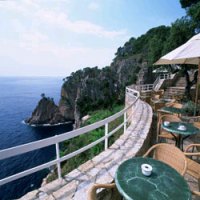 The parador's rooms are spacious and have french windows opening out onto a large balcony with table and chairs from which to relax and enjoy the surrounding scenery - sheer cliffs, pine groves, rocky beaches, yellow sandy bays and the deep blue sea. The sunrise is spectacular and it is worth getting up early to witness it. Be prepared to receive unexpected (and rather loud) visitors to your balcony in the mornings - the rocks are full of seagull nests, and the large birds often land on balcony railings and call loudly out to their friends from this privileged position.
The parador restaurant offers very good food at a reasonable price, and the service is quick and very attentive. Make sure you try some local wines with your dinner - this area of Catalunya is famous for its white and red wines and, of course, for its cavas. The parador receives alot of non-Spanish guests and most of the staff speak very good English.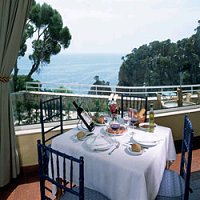 Where to visit: During your stay in Aiguablava parador, make sure you visit nearby Pals, a beautiful medieval village, and Peratallada. The famous Greek and Roman remains of Empuries are half an hour's drive away at L'Escala where you can eat some of the best anchovies in Spain. Well-known resorts such as Tossa de Mar and Lloret de Mar are a short drive away along the coast. For more detailed information about places of interest in the province, photos, cultural and historical information, recommended hotels and restaurants etc., see Guide to Girona and Guide to Barcelona.