Cazorla parador
(***)
(Jaén)
(33 rooms.)


Preservation
Acceptable
Restaurant
Good
Price:Quality
Good

Sierra de Cazorla, Paraje Sacejo.
Tel 953 72 70 75; Fax: 953 72 70 77

The Parador is a few kilometers away from Cazorla, about 20 minutes drive up the winding mountain road.
Online reservation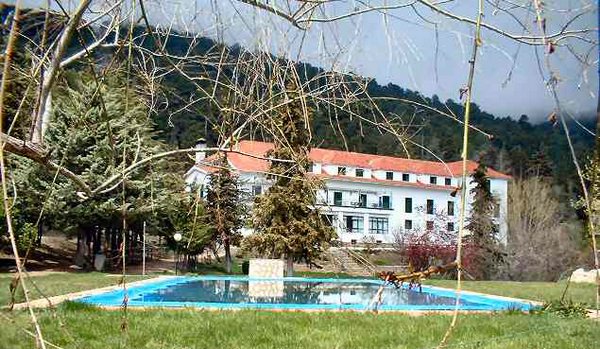 To wake up in the heart of one of Spain's most beautiful mountain ranges, stroll out for an early morning walk and be greeted by wild deer and silence except for the sound of water trickling down mountain streams is an experience that you will never forget. And staff at Cazorla Parador do there best to help you get the maximum out of your stay.

The Parador in Cazorla has comfortable(not luxurious) facilities, a lovely big sitting room with a big log fire, good food, and little extra touches like walking staffs in the rooms which visitors can use to help them climb up and down the mountain walks, guided nature trails on foot or in jeeps. This parador is a wonderful choice for all ages and especially for family groups.
The parador in Cazorla is a large whitewashed typically Andalucian structure with a nice grassy back garden and swimming pool which can be used in the Summer months. Set in an area with spectacular views of mountains and valleys, there are four different nature trails starting from the Parador itself and classified according to level of difficulty, from easy (we completed one with our 4-year old son) to difficult. If you walk quietly and look carefully you can spot all kinds of species on the trails, including mountain goats, wild boar, rabbits, eagles, vultures.. The source of one of Spain's largest rivers, Guadalquivir, is nearby.
Cazorla Parador's staff are so friendly and helpful that you feel at home straight away and you can feel yourself unwind more and more as each day passes. We planned to make several trips during our 3 days in this parador, but in the end we just did not feel the need or inclination to get in the car at all. We really enjoyed the walks and seeing wild deer (we found out on the last day that staff actually leave food at the bottom of the mountain overlooking the parador to tempt the deer out of their hiding places!).
The restaurant serves good quality traditional local dishes (pisto, gachasmiga, pipirrana, meat dishes including game) and very good local wine. If you like olive oil, Jaen is Spain's biggest producer - the whole province seems to be covered with olive groves before you get to the mountains - and you can buy excellent olive oil at a cooperative a few km away from Cazorla Parador. Staff will give you directions on how to get there.
You may find, as we did, that your mobile phone does not work because of the remote location of Cazorla Parador. See photos of Cazarla Parador, Baeza and Ubeda.
For more detailed information on other sights, hotels and restaurants in the province see Guide to Jaen.