Parador of Jarandilla de la Vera
53 rooms
(****)

Preservation
Good
Restaurant
Good
Price:Quality
Quite good

Avda. García Prieto, 1
Tel.927 560 117; Fax: 927 560 088

Online reservation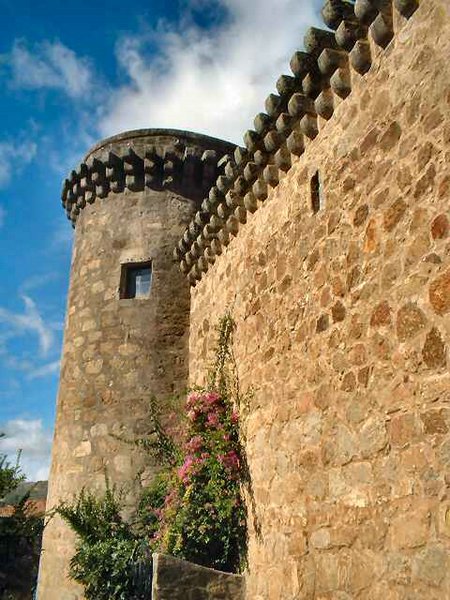 The Parador at Jarandilla de la Vera in the Province of Caceres is a splendid castle built for Carlos V, Spain's greatest King who commanded an Empire so big that is was said that the sun never set in the Spanish Empire.
The Palace was built so that Carlos V could rest here on his way to the Yuste Monastry, just 6 kilometres away.
The Parador of Jarandilla de la Vera is simple building, rich in history. The rooms are simple and comfy, service is welcoming and the restaurant serves traditional local dishes.
The worst thing about Jarandilla Parador is the village itself. We went back last year (2004) to take some photos, having stayed in the parador years earlier. While we were taking the photos outside, we were quite surprised to listen to a loud announcement from a mobile microphone stuck on a van, informing us of the existence of a local brothel which apparantly had opened recently and had a score of lovely girls waiting to welcome local men!!! This could only happen in rural Spain.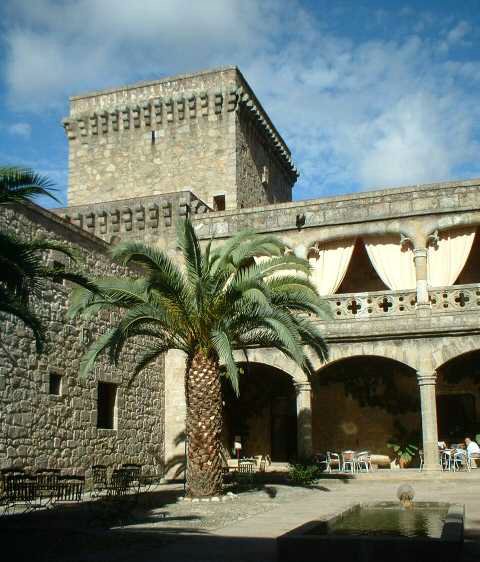 Jarandilla de la Vera is quite an uninteresting village (apart from the bizarre attraction mentioned above), but it is the surrounding area which makes a visit to this parador worthwhile. Beautiful lush countryside, valleys, rivers, small villages..... The Monasterio de Yuste where Carlos V decided to come to die is also worth visiting, although it closes very early on Sundays, so check opening times before you go.
The restaurant serves good food. We recommend migas (crumbs) extrameña-style, potato soup and partridge soup. And try too the cherry liquor - delicious and quite difficult to buy elsewhere in Spain.
See Photos of Jarandilla de la Vera Parador . For more detailed information on other sights, hotels and restaurants in the provinces of Badajoz and Caceres, see Guide to Badajoz and Guide to Caceres.
Paradors near Jarandilla de la Vera