Parador of Plasencia
66 rooms
(****)

Preservation
Good
Restaurant
Good
Price:Quality
Fair

Plaza San Vicente Ferrer
Tel .927 425 870; Fax: 927 425 872

Online reservation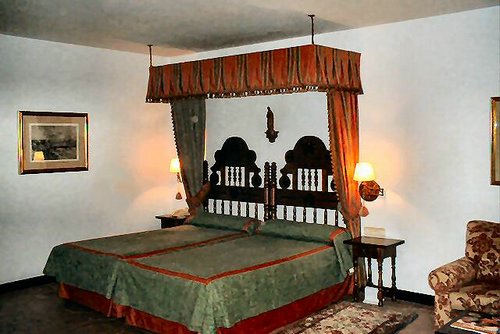 The parador in Plasencia is one of four magnificent monumental parador hotels in the Province of Caceres (the others are Caceres, Trujillo and Jarandilla de la Vera).
Although it is quite difficult to find (the sign posts lead you to an underground carpark, so be careful....) and the view of the spectacular entrance is spoilt by cars parking right at the parador's door (see photo). Built in the 15th Century, the convent is dedicated to Vicente Ferrer and is a splendid parador with gothic design set in the historical part of Plasencia.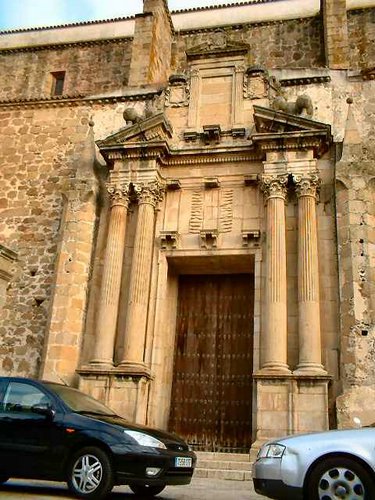 Service is rather slow on arrival and departures, but staff are mostly friendly and rooms are comfortable although we had to book a junior suite because no standard double rooms were free, and we found the price high in relation to the actual size of the suite.
The restaurant, set in the beautiful refectory with gothic arches and thick stone walls, serves traditional food and the migas (fried crumbs) and roast lamb in honey are particularly recommendable. Try a local wine - although they are not very well-known, the red wines from Extremadura are very interesting and relatively cheap.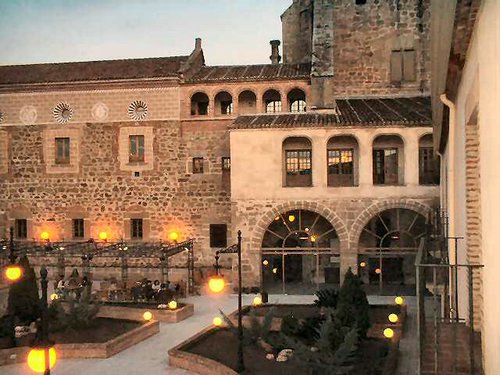 Plasencia is an interesting town and the historical part conserves many monumental buildings although (as is the case with so many historical towns in Spain), more money and time could (and should) be spent on cleaning up the monuments, controlling pollution and providing more tourist information. Photos of Plasencia Parador, Photos of Plasencia
For more detailed information on other sights, hotels and restaurants in the provinces of Badajoz and Caceres, see Guide to Badajoz and Guide to Caceres.