Caceres Parador
(32 rooms )
(****)

Preservation
Very good
Restaurant
Good
Price:Quality
Good

C/ Ancha, 6, Cáceres,
Tel.:+34 927 211 759 Fax: 34 927 211 729

Online reservation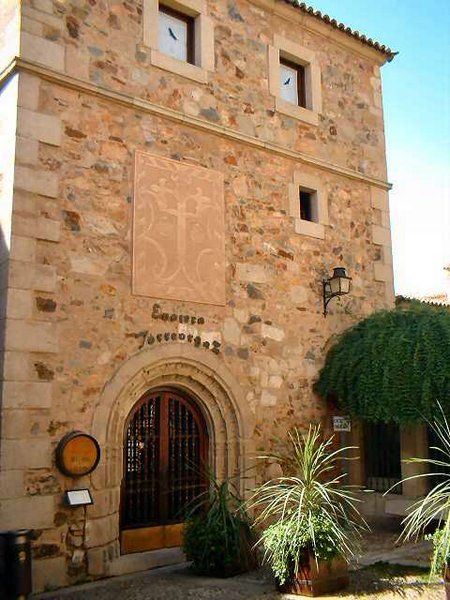 Cáceres, is one of Spain's best conserved historical cities. Walking around the old center is like going back in time and wherever you look you are surrounded by wonderfully preserved buildings, hundreds of years old. The old town of Caceres was declared a UNESCO World Heritage Site in 1986. Caceres Parador is right in the middle of the old town.
The city's history of battles between Moors and Christians is reflected in its architecture, which is a mixture of Roman, Islamic, Northern Gothic and Italian Renaissance styles. There is also a "barrio judio" similar to Toledo, where the Jewish people used to live. There are no less than 30 towers from the period of Arab occupation still standing.
Caceres Parador is the old Palace of Torreorgaz. This palacio was built on the foundations of a Moor building in the Fourteenth Century, and the stone family shield of the owners still hangs proudly over the main entrance.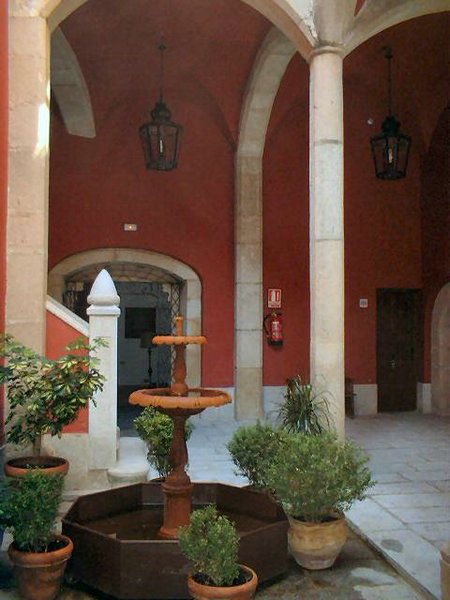 The facilities of Caceres Parador are modern, despite the fact that it is housed in one of the parador chain's oldest buildings. The parador has a warm, comfortable air to it, with breezy interior patios and comfortable rooms. Some Some of the bathrooms look out on to the cobbled streets and are at the same level as people strolling along, so careful about having the window open during certain bathroom activities.
The parador restaurant deserves special mention. It has a separate entrance from the parador itself, and a lovely garden where tables are set out in the Spring and Summer months. The quality of the food is good, and the restaurant has one of the chain of parador's largest wine cellars, with over 300 different wines.

The Region of Extremadura is one of Spain's most rapidly improving wine producing regions, and we definitely reccommend visitors to try some of the new wines produced nearby. The region is also famous for its pastries (you can buy homemade cakes and pastries from the Convent near the Parador) and cherry liquer.
If you have a booking with Caceres Parador and are arriving by car, drive to Plaza de Santa Clara where you will find a barrier. Traffic is forbidden to non-residentes in the historical town, but Parador guests can press an interphone buttone just to the right of the traffic light and inform the local police that you have a reservation at the parador. They will lift the barrier for you. See Photos of Caceres Parador and Photos of Caceres.
For more detailed information on other sights, hotels and restaurants in the provinces of Badajoz and Caceres, see Guide to Badajoz and Guide to Caceres.