Parador of Oropesa
48 rooms
(****)

Preservation
Good
Restaurant
Good
Price:Quality
Very good

Plaza Palacio 1
Tel. 925 43 00 00; Fax: 925 43 07 77

Online reservation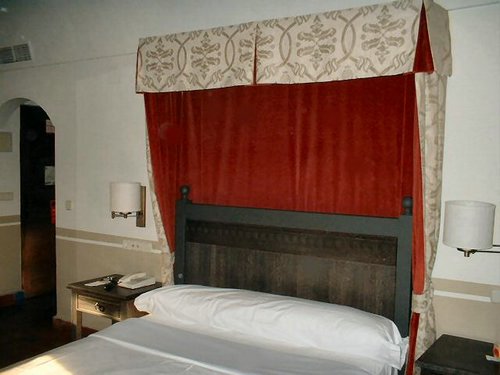 Oropesa is one of Spain's lesser known paradors, but it is also one of its most spectacular and it is well worth a visit. It used to be a palace, home to the Alvarez de Toledo, a family of Spanish nobles. One member of the family, Francisco de Toledo, was Viceroy of Pero when the American colonies were still under Spanish rule.
Just next to the parador is Oropesa's splendid medieval castle. There is a direct access from the parador, and it is well worth a visit.
The Parador in Oropesa is exactly what you expect of parador hotels. Magnificent building, stylishly decorated, comfortable and good-sized bedrooms, welcoming, professional staff,and a very good restaurant. See photos of Oropesa Parador
The village is nice too, with lots of surprising nooks and crannies. We recommend an hour's stroll before dinner in the evening as the sun come down over the Toledan countryside. The views are really lovely, and the village has lots of character. See photos of Oropesa
You may also like to visit Lagartera, just a couple of kilometres away, famous for its embroidery which seems to be the hobby of every woman living in the village. They sit outsider their homes in groups in the afternoons making the lace and embroidered towels and tablecloths which have made this village famous. It is a very curious sight. See photos of Lagartera.