Parador de Zafra
Zafra Parador (Badajoz)
(44 rooms)
(****)

Preservation
Good
Restaurant
Very good
Price:Quality
Acceptable

Plaza Corazón de María, 7 0
Tel. : +34 924 55 45 4
Fax: +34 924 55 10 18

Online reservation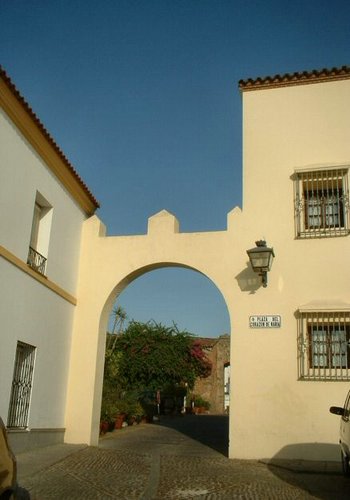 Zafra parador is a 15th Century palace which used to belong to the Dukes of Feria, one of Spain's most influential family of nobles. It is an impressive building with a beautiful interior patio, spacious bedrooms, welcoming staff and good food.
The parador has a feeling of a medieval castle from the outside, and a palace from the inside and is set right in the heart of the old part of Zafra which is an interesting town and forms part of the famous Ruta de Plata of Extramadura the route built by the Romans during Roman occupation of Spain to link southern and northern Spain from Andalucia to Asturias.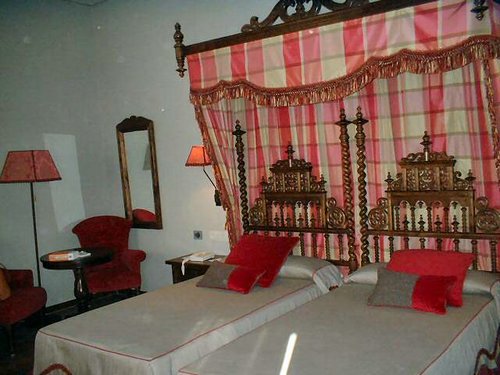 Don't be put off by the first impression you get of the town of Zafra if you arrive via the NV Extremadura road or N-630 road from Merida. In the case of Zafra, first impressions are deceptive, as visitors find out as soon as they park their car outside Zafra's parador. There is a public carpark in a small square behind the parador which you get to first, but you can also park right infront of the parador entrance so look for a space there. If there are no spaces free, you can still stop, unload your luggage and check in, and then park your car in the back square. In both cases, parking is free of charge.

Visitors should set aside at least a couple of hours just to stroll around the old part of this town, and visit some of the charming corners and old buildings. The town was home to some of Spain's best known explorers during the reign of Carlos V and the discovery of America, and the general feeling is one of an old, slightly decaying, South american colonial town because of the mixture of traditional Spanish styles and styles which explorers introduced on their return to Spain. It can get very hot in Zafra during the Spring and Summer months, so it is best to explore the town in the early evening or early morning.
We highly recommend an evening dinner in the restaurant of Zafra parador. The restaurant tables are set out in the interior patio which has a fountain in the middle, and is held up by impressive arches. It is an experience you won't easily forget. Also, the food is excellent as is the local wine - let the parador restaurant staff advise you. The Migas extremeñas (fried breadcrumbs with fried egg and chorizo) and Carne de ternera retinta (grilled beef fillet) are exceptional. The parador includes two interesting liquors in its desert menu - cherry and acorn - both of which are typical products of Extremadura (as is cured ham which is also delicious).
The parador rooms are decorated tastefully and are clean, spacious. Ask for a room overlooking the parador plaza and the town of Zafra, as some of the other rooms overlook the back carpark. Zafra parador has a swimming pool and garden where visitors can relax during the hottest hours of the day, or cool down after a stroll around the town. Photos of Zafra Parador
For more detailed information on other sights, hotels and restaurants in the provinces of Badajoz and Caceres, see Guide to Badajoz and Guide to Caceres