Parador de Javea
Javea Parador (Costa Blanca)
(69 rooms)
(****)

Preservation
Acceptable
Restaurant
Fair
Price:Quality
Acceptable

Playa del Arenal, 7
Tel.: (34) 965 790 200 ; Fax: (34) 965 790 308

Online reservation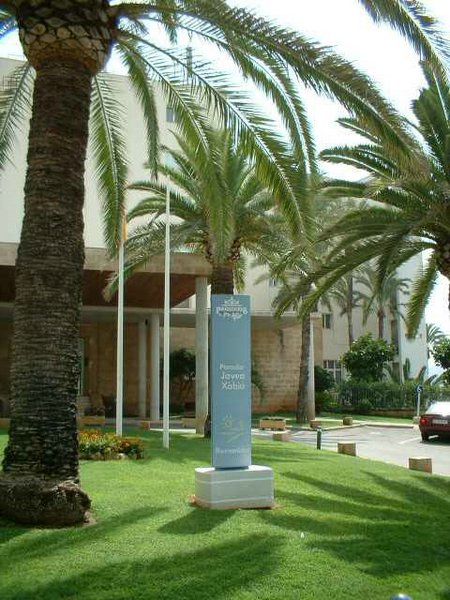 The gardens and swimming pool of Javea Parador overlook the beautiful sandy Arenal Beach. There is nothing historical about this modern parador hotel, built in the 1960s and regularly reformed. Guests are attracted here by its position, next to the beach and the marina of Javea, on what is definitely one of the most beautiful parts of the Costa Blanca.

Javea is just a few minutes drive away from Denia, Benissa, Altea, Moraira and Jalon (or Xaló), Alicante's wine-making region. Spanish people call this area "La Marina Alta" and it is home to thousands of Euroresidentes.
The Parador itself is comfortable, and the gardens and pool are lovely. The bedrooms have balconies overlooking the gardens and the Arenal beach where guests can have a evening drink and admire the sunset. The restaurant has good (not marvellous) food, with a lunchtime buffet serving Spanish Mediterranean dishes (paella, fried fish, prawns and other seafood) and local wines. The Marina Alta is the wine-producing area of the province of Alicante, notably sweet wines.
The landscape along this area of the Costa Blanca is sometimes quite breathtaking and is a kind of mixture of what you expect from the Costa Blanca and the Costa Brava, blended into one. The road from Javea to Denia winds round tall mountains, and all along the coast there are beautiful hidden beaches. Inevitably the area has become too populated, and there are hundreds of villas dotting the mountainside (many of them belong to euroresidentes), but thankfully there are non of the high blocks of holiday apartments and hotels which are characteristic of other areas of the Costa Blanca. Many of the euroresidents who live in this area have small businesses, such as parrot-rearing (!), ceramics or ecological restaurants.
Javea Parador is near some of the province of Alicante's best restaurants, many of which have national aclaim. We especially reccommend El Girasol (Moraira); El Poblet, La Casa Pepa (Denia); La Seu de Teulada, La Sort (Teulada); Al Zaraq, serving Arab food and Casa Cantó (Benissa).
For more detailed information on other sights, hotels and restaurants in the province see Guide to Alicante.
Paradors near Jávea
Related links