Parador of Ronda
70 rooms, 8 suites
(****)

Preservation
Very good
Restaurant
Good
Price:Quality
Good

Plaza de España, s/n, 29400 Ronda.
Tlno.: 95 287 75 00;
Fax: 95 287 81 88

Online reservation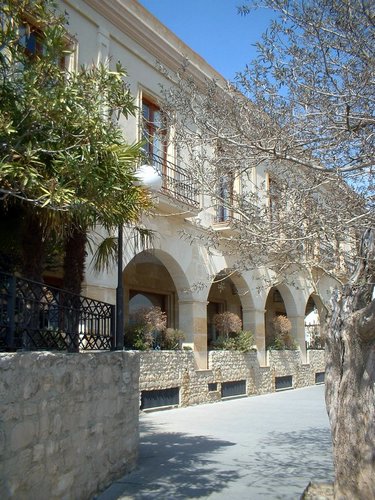 Ronda is an amazing place, a village clinging on to a mountain. And the parador in Ronda is in a privileged position, just next to the famous bull ring and overlooking the spectacular Río Guadalevín gorge which divides the town.
If you want to experience real southern Spain, to be near enough the Costa del Sol to enjoy the Mediterranean Sea but then escape from the whole costa culture into the quiet white mountain villages, then charming Ronda (like Arcos de la Frontera or Antequera) is the right choice for you.
The parador is a lovely large typically andalucian building with quite amazing views of the Guadalevin gorge and the bridge linking both sides of Ronda. The rooms are comfy, the food is good and the staff are friendly and helpful. Common areas are spacious and the swimming pool is wonderful. Ronda parador is very popular with Spaniards and international tourists, so you are advised to book in advance.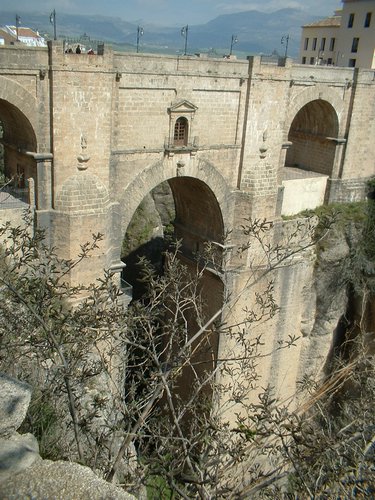 The history and culture of Ronda has firm links with the world of bull fighting. The bullring is the oldest - and experts say the most beautiful - in Spain and Spain's most famous toreros still hold corridas here every year. If you, like Hemingway was, are fascinated by the whole toro culture, then you will be fascinated by Ronda and the museum set within the grounds of the bullring and open to the public. But even if you are uninterested in, or positively dislike, bullfighting, you will still warm to this pretty, friendly and very clean town.
Ronda is at its best during the long evenings, when the day-trippers have gone back to their Costa del Sol hotels or apartments and a sense of peace and tranquility descends on the town. Stroll through the winding streets, have a cool beer or a vino fino in the Parador cafeteria, at one of the outdoor tables overlooking the gorge and watch how the sunset reflects on the whitewashed houses. Photos of Ronda Parador, Photos of Ronda
For more detailed information on other sights, hotels and restaurants in the province, see Guide to Malaga.