P. T. de Cazorla (Jaén)
(33 habit.)
(***)

Preservation
Very good
Restaurant
Good
Price:Quality
Good

C/ Ancha, 6, Caceres,
Tel.:+34 927 211 759 Fax: 34 927 211 729

Online reservation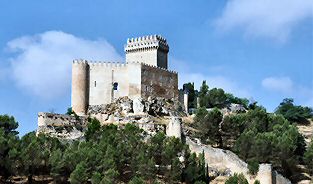 This parador is set in Alarcón, a beautiful medieval village next to the Jucar River gorge. The village is tiny and typical of rural Spain - small narrow streets lined with low stone houses, all leading to the village plaza and almost more churches than houses. A wall surrounds the whole village which is illuminated at night, so a stroll after dinner is a good idea.
The parador of Alarcón is a spectacular 8th Century Moorish castle, recently renovated in a bold style, combining history with modern design.
The parador only has 15 rooms, and it is necessary to book in advance.

The rooms are comfortable, especially the ones in the tower (which are a bit more expensive).
The parador was recently refurbished. The result is spectacular - modern touches and furnishings and bright colours contrast with their historical surroundings, giving this parador a unique air.
The restaurant is an example of the contrast mentioned above and is a spendid room. Guests are offered good food - not one of the best parador restaurants, but still good - and the service is quick and professional. Try the local dishes.
We have just one reservation about Alarcon parador - the prices. It is one of Spain's priciest paradors and certainly the price of the tower junior suite rooms (often the only rooms left if you book on the same day) is too high.
For more detailed information on other sights, hotels and restaurants in the province, see Guide to Cuenca.