Parador of Cuenca
(****) (62 rooms)


Preservation
Very good
Restaurant
Highly recommended
Price:Quality
Acceptable

Subida a San Pablo s/n
Tel. 969 23 23 20 ; Fax: 969 23 25 34

Online reservation

Cuenca's beautiful parador is in an old Sixteenth Sentury convent opposite Cuenca's famous "casas colgadas", the hanging houses - buildings which seem to cling precariously onto the rocky side of the gorge dividing one side of Cuenca from the other.
Because of the location of Cuenca Parador, visitors have spectacular views of Cuenca on one side, and of the Huecar River Gorge on the other.
Cuenca Parador is just next to the hanging bridge which provides pedestrian access to the centre of the old town on the other side of the gorge. More about Cuenca itself here.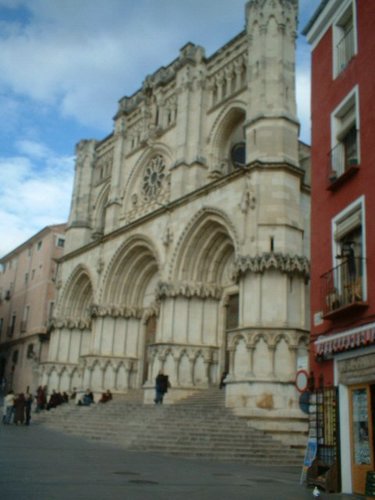 The Parador of Cuenca is comfortable and full of historical objects from when it was still a Convent. The rooms are not enormous, but they are big enough, and the bathrooms are clean and practical rather than luxurious.
The Parador restaurant offers local dishes and wines, and the food is excellent. It is advisable to reserve in advance, especially since Prince Felipe of Spain and his bride, Princess Letizia, spent the first night of their honeymoon in one of Cuenca Parador's rooms adding to the parador's popularity among Spaniards. See Photos of Cuenca
For more detailed information on other sights, hotels and restaurants in the province see Guide to Cuenca.