Hostal Reyes Católicos
Santiago de Compostela Parador
(131 rooms.)
(*****)

Preservation
Very good
Restaurant
Very good
Price:Quality
Acceptable, about 180 euros

Pl. Obradoiro 1, Santiago de Compostela
Tel: +34 981 582 200 Fax: + 34 981 563 094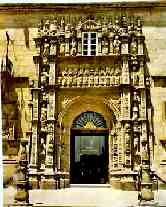 The Santiago Parador, Hostal Reyes Católicos, is considered to be one of the Spanish parador chain's two jewels in the crown (the other jewel is San Marcos parador in Leon). And even if you can only afford to have a cup of cafe con leche in the cafeteria, (this is one of the most expensive paradors in Spain), do. You won't regret it.
Spain's formidable Queen Isabel and King Fernando, los Reyes Católicos, had the hostal built in 1499 as one of the many hospitals constructed along the Santiago Route to attend to pilgrims on their way to Santiago de Compostela. It stands proudly opposite the University and to the right of Santiago Cathedral in what is one of the most breathtaking city squares in Spain (and possibly the World).

Pilgrims were offered accommodation and care in the Hostal Reyes Católicos, making Santiago Parador one of the oldest hotels in Spain. It is also one of the country's most beautiful buildings.
Santiago Parador has four outstanding cloisters inside, and its design has touches from the gothic, rennaissance and barroque periods. It is one of the examples of how revenue earned from guests staying at the Parador have provided the funds needed to properly restore the building to its former glory.
Everything about the Hostal Reyes Católicos Parador in Santiago de Compostela is almost faultless (except the price!! But that can be remedied if you take advantage of one of the special offers launched by the chain of Paradors of Spain). This is definitely an experience you will not forget. Luxurious bedrooms and bathrooms, elegant lounges, beautiful long halls and interior patios, high arches, furniture and other articles on display along the halls and corridors from hundreds of years ago... Santiago Parador is not really recommendable for families with young children.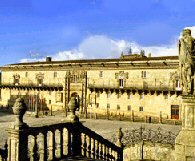 The parador has two restaurants, both serving very high quality food. The elegant Libredon restaurant serves the Galician seafood which is so characteristic of this Spanish region, as well as other traditional dishes. The other restaurant, Enxebre, is less formal and is in the basement. See Photos of Santiago de Compostela
Paradors near Santiago de Compostela