Almagro Parador
(54 rooms.)
****

Preservation
Good
Restaurant
Good
Price:Quality
Good

Ronda San Francisco, 31
Tel. 926 86 01 00

Online reservation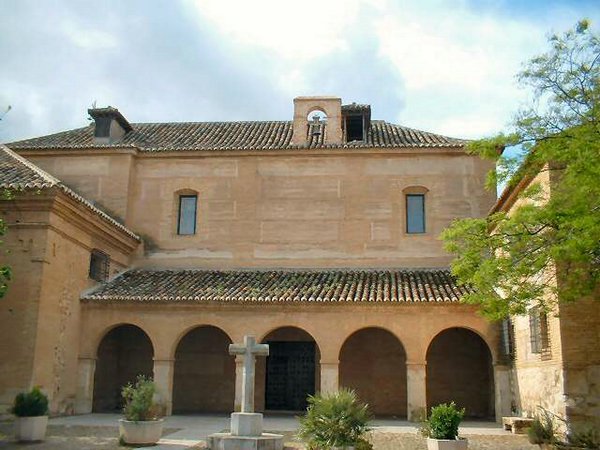 The San Francisco Convent (formerly the enormous Santa Catalina Convent) dates from the 16th Century and is one of the jewels in the crown of the paradors of Spain chain. With its spacious, peaceful rooms, elegant corridors and beautiful patios, the Parador of Almagro is a wonderful place to spend a couple of nights unwinding from the stresses of everyday life. The parador has no less than 14 patios.
The food served in the restaurant is good (not marvellous), and the list of local wines is interesting. The breakfast buffet is very good.
If you are lucky enought to visit Almagro Parador in late Spring or Summer, you can enjoy swimming in the pool, set in the parador's beautiful gardens, surrounded by greenery and singing larks. Towels are provided.
Almagro Parador is set in what hundreds of years ago was the administrative capital of "La Mancha Province", and the historical buildings in this very small town reflect the splendour of former times. Guests at the parador can stroll into the center of the town (just a 10 minute walk) and visit the incredible Plaza Mayor, a medieval square which even now remains the center of town life. Every July, the International Festival of Classical Theatre is held, and plays are acted out in the corral de comedias just as they were 400 years ago. It really is like being transported back in time.
Nearby just a short drive away, bird-lovers must try to go to the Tablas de Daimiel, a natural swamp reserve with all kinds of species. If you go in the Summer, put some insect repellent on first - there are a lot of mosquitos. And try to go early on in the day - this is one of Spain's hottest regions in the Summer, and you will find that the best place to spend the middle hours of the day is in the shade by the pool in the Parador, or reading in the cool interior.